gafer.pl rubber cable tie T-fix
Rubber cable tie, which is ideal for fastening, holding, tying cables and other small things to truss, stands or crossbeams. Theatre technicians, roadies and technicians over the world are familiar with the T-Fix rubber cable tie. Reusable.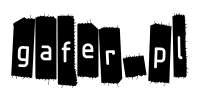 Easy return of products within

14

days from the date of purchase without giving reasons
The rubber cable binder T-FIX, is the ideal product to quickly fix cables and small products. Consider capturing cable bundles on a truss, stands or a trek in the theater. They are great to  tie twisted and untwisted cables lying on the stage making the order during the installation.
Cables look very neatly tied every few meters with rubber ties, and in some cases it's becomes unnecessary to use duct or gaffer tape.
Even small goods move quickly fixed with this rubber cable tie.
They are durable and attract almost no part. Thus, they are often reusable. The ideal solution to bundle and / or hide your cables! The attachment mechanism of elastic T-Fix-tie make solving and bind easily. The cable tie leave unlike tape no trace on your cables and are – as reusable – also good for the wallet. Once purchased, you need more than occasionally to buy a few cable ties. They are available in three lengths 8 cm, 16 cm and 23 cm.